OLD foes Carlton and Collingwood will join forces this weekend to raise awareness for the Peter MacCallum Cancer Foundation.
The Blues and Pies will go head-to-head at the MCG this Sunday 24 June, with both teams vying for the Peter Mac Cup – Carlton currently holds the ledger with 14 wins.
Now in its 26th year, the Peter Mac Cup is the longest-running charity match in VFL/AFL history and since its inception in 1993, has raised more than $1 million for vital cancer research.
Peter Mac is one of the world's leading cancer research, education and treatment centres, and is Australia's only public hospital solely dedicated to caring for people affected by cancer.
This year the Foundation is calling on supporters to take part in its 'Unite to Fight Cancer' event, with participants riding, running, or walking to make a life-saving difference for people with cancer.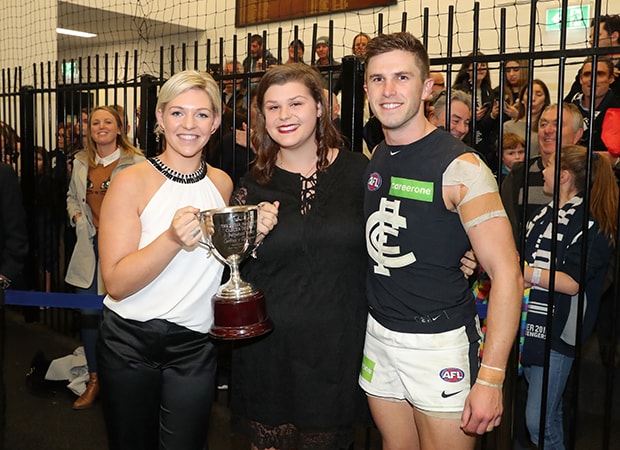 Carlton lifted the Peter Mac Cup in its victory over Collingwood last season. (Photo: AFL Media)

The event will take place on Sunday 28 October, with funds raised helping Peter Mac accelerate the discovery of cancer cures.

For more information on the Peter MacCallum Cancer Foundation click here, or to sign up for the 'Unite to Fight Cancer' event, click here.

Your donations make a difference. Please donate today to Peter MacCallum Cancer Foundation by clicking here or caling 1800 111 440.

Since 2009, Collingwood's home game against Carlton has been dedicated to the Peter Mac Cup, while the Blues' home game against the Pies has traditionally been played for the Richard Pratt Cup.

Make sure you head to the 'G on Sunday afternoon and give your spare change to the tin rattlers outside the ground, while all the action in the stadium kicks off at 3:20pm.


PETER MAC CUP WINNERS - 1993-2007:

1993 - Round 6 Collingwood 21.11 (137) def. Carlton 15.11 (101)
1994 - Round 17 Carlton 14.13 (97) def. Collingwood 7.12 (54)
1995 - Round 1 Carlton 14.11 (95) def. Collingwood 9.12 (66)
1996 - Round 1 Carlton 16.13 (109) def. Collingwood 12.15 (87)
1997 - Round 19 Carlton 14.23 (107) def. Collingwood 13.13 (91)
1998 - Round 6 Collingwood 14.12 (96) def. Carlton 9.13 (67)
1999 - Round 17 Carlton 23.15 (153) def. Collingwood 14.12 (96)
2000 - Round 18 Carlton 28.12 (180) def. Collingwood 10.9 (69)
2001 - Round 21 Carlton 20.10 (130) def. Collingwood 9.8 (62)
2002 - Round 18 Collingwood 21.15 (141) def. Carlton 4.9 (33)
2003 - Round 17 Collingwood 20.15 (135) def. Carlton 8.14 (62)
2004 - Round 7 Carlton 13.11 (89) def. Collingwood 11.14 (80)
2005 - Round 20 Carlton 19.15 (129) def. Collingwood 14.10 (94)
2006 - Round 6 Collingwood 21.12 (138) def. Carlton 9.12 (66)
2007 - Round 7 Collingwood 17.17 (119) def. Carlton 14.11 (95)
2008 - Round 4 Carlton 17.9 (111) def. Collingwood 13.10 (88)
2009 - Round 8 Carlton 16.8 (104) def. Collingwood 7.11 (53)
2010 - Round 18 Collingwood 15.15 (105) def. Carlton 9.3 (57)
2011 - Round 3 Collingwood 15.12 (102) def. Carlton 11.8 (74)
2012 - Round 15 Carlton 12.3 (85) def. Collingwood 8.14 (62)
2013 - Round 2 Collingwood 17.15 (117) def. Carlton 15.10 (100)
2014 - Round 15 Collingwood 13.13 (91) def. Carlton 11.10 (76)
2015 - Round 19 Collingwood 16.9 (105) def. Carlton 13.9 (87)
2016 - Round 7 Carlton 15.9 (99) def. Collingwood 12.12 (84)
2017 - Round 7 Carlton 12.7 (79) def. Collingwood 8.8 (56)
Carlton 14 wins, Collingwood 11 wins