ALEX Boyle, Carlton's resident full-back in eight senior matches through 1953 and '54, has died at the age of 88 after a long illness.
Considered the logical successor to the premiership-winning full-back Ollie Grieve, Boyle joined the Club from Oakleigh having earned a reputation in VFA circles as a dashing defender of renown. Prior to 1949, he'd played for rival Association club Frankston where his on-field prowess was identified by Carlton's 1938 premiership captain-coach Brighton Diggins.
In football terms, Boyle was hot property. On June 25, 1952, The Argus reported that Oakleigh had finally relented in clearing Boyle, who'd stood out of the game for the opening 10 games of that season out of frustration in not earning a Carlton clearance.
The Devils' move meant that Boyle's new club had acquired what The Argus correspondent noted was "one of the most sought after VFA footballers for years".
"Two other League clubs – South Melbourne and Footscray – were anxious to secure the services of Boyle," the writer observed.
"Footscray tried to sign him in 1950, 1951 and again early this season. South Melbourne failed to obtain permission from Oakleigh to interview him in 1950. Boyle trained at Carlton four years ago and the club unsuccessfully sought him last year."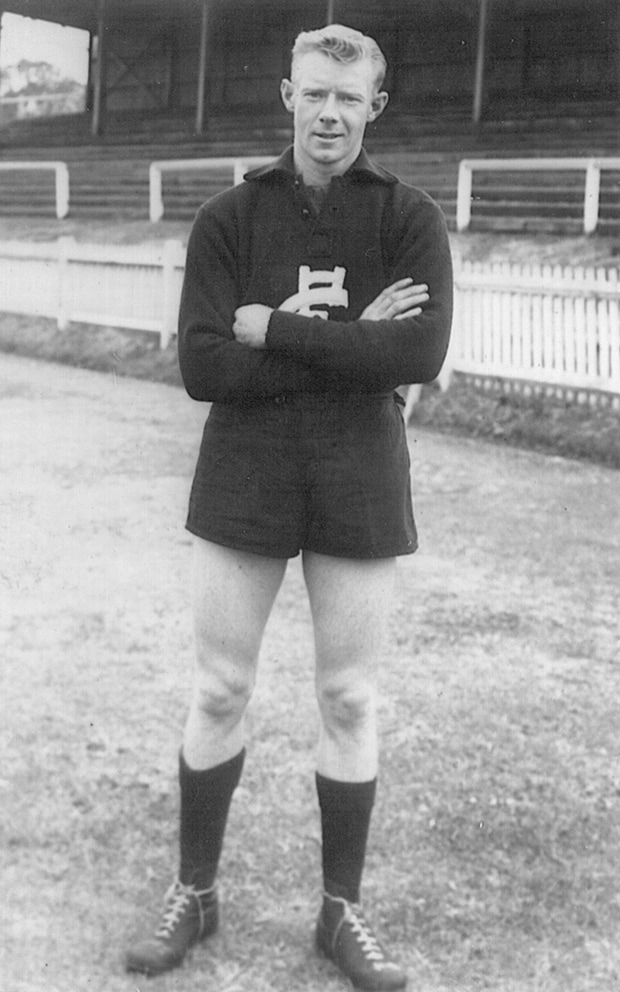 Former Blue Alex Boyle. (Photo: Boyles Studio)
Named at full-back between Bruce Comben and Brian Molony, the 23-year-old Boyle completed his senior debut in Dark Navy against Footscray in the opening round of season 1953 – the same game in which a future Brownlow Medallist John James turned out for the first time.
Inaccuracy in front of goal cost Carlton the four points that Saturday afternoon – 7.18 (60) to the Bulldogs' 9.11 (65) – and Boyle did not represent the team again that season.
On the Wednesday after the match, Boyle's name appeared in The Argus beneath the headline PROBLEM FOR BLUES.
The unnamed reporter noted that the chief worry facing Carlton selectors was finding a successor to Boyle at full-back.
"Boyle leaves on an overseas business trip this week and may not be available again this season," the correspondent wrote.
This week, Boyle's son Phil revealed the circumstances behind his father's sudden departure.
"Dad got a lucrative offer to be foreman for the construction of a cantilever crane on Christmas Island," Phil said.
"They used to load phosphate onto ships by hand over there and Dad, who was a structural engineer, arranged for the crane to shovel it out."
Boyle wore the guernsey No.5 of Sam Petrevski-Seton into the Footscray match and then the No.6 of Kade Simpson through a further seven senior appearances in '54 – the last of them against Geelong in Round 18 at Kardinia Park.
Later cleared by the club, Boyle took up the role of senior coach for Pearcedale in the then Mornington Peninsula Football League in 1955.
"Dad took on a series of coaching jobs throughout in country Victoria and he was captain-coach of Narrandera Imperials in New South Wales," Phil said.
"He played on into his mid-30s but he copped a crook hip which meant he didn't go to watch many Carlton games later on. I can only remember a couple of occasions where he went along to watch, but having said that he always followed Carlton with interest and Carlton was his team."
Boyle was the 662nd player to represent the Carlton Football Club at senior level since the VFL's foundation season of 1897.
Two of Boyle's old Carlton contemporaries, Ron Robertson and Peter Webster, remembered Boyle, but acknowledged that after 65 years, memories of their former teammate are all too fleeting.
In terms of the character of the man, Boyle's son Phil, who was putting the finishing touches to his father's eulogy when contacted for this story, offered the following:
"Dad was intelligent and hard-working. For more than a dozen years he worked seven days a week because the family store was burnt out up at Narrandera, we lost a lot and when Dad came back he was fighting to get back on top again," Phil said.
"He wasn't one for detail. He didn't watch a movie or read a picture book. If it wasn't real he wasn't interested. As I say in my eulogy, he was a real man – an old fashioned sort of person in that way. Life was tough growing up, his parents broke up and I think he was loyal to all his friends because of that."
Alexander (Alex) William Boyle died peacefully in Frankston Hospital on July 29. He was a husband to Catherine and formerly Pat (deceased), father to Bruce (deceased), Mal and Phil, step-father to Michael and Kristy. He was also a much-loved grandfather and great grandfather.
A celebration of Boyle's life will be held at the Rosebud Funeral Chapel, 123 Jetty Road, Rosebud, on Wednesday, August 8, 2018, commencing 2.30 pm.