IN a first floor hotel room in the Sydney CBD, on the eve of his team's contest with the Swans on the SCG, Jarrod Garlett puts his own unique flourishes to a pair of footy boots – as has been the custom for the 22-year-old in the few short months since he crossed the Nullarbor to Carlton.
"In going to another club, this was one way of standing out for my background, my culture and my people," said Garlett, between daubs of paint applied with a stick to the soft leather uppers.
"I try to paint a pair of boots every week when I play . . . and when we start winning I'll be giving them away to someone in the crowd."
In tonight's Sir Doug Nicholls Round match against Sydney at the SCG, a number of Garlett's teammates will wear boots specially painted by the Blues' flamboyant forward - among them Patrick Cripps.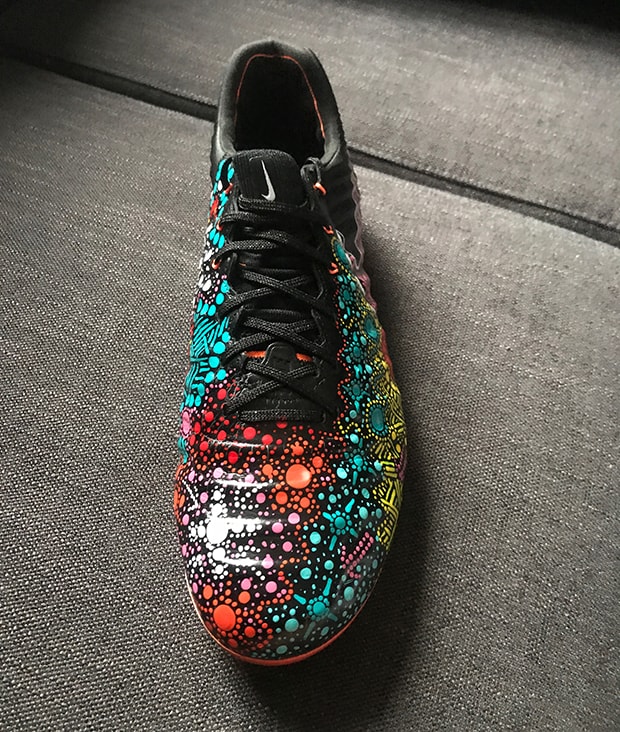 Patrick Cripps will wear these boots tonight, which have been painted by teammate Jarrod Garlett. (Photo: Supplied)
Garlett said his boot-painting concept came about when his dream of painting an Indigenous guernsey failed to materialise.
"The problem was that the Indigenous guernsey is only worn in one round a year – the Indigenous Round - and I was looking for something more constant to represent where I'm from and who I am . . . so the painting of the boots allows me to do that."
Using a small stick dipped in oil paint to dab the boots, Garlett painted his first pair on the eve of the opening-round match with Richmond – his first game for Carlton on the mighty MCG.
There is a symbolism in Garlett's artwork, in that what he paints "tells the journey of my story and what I've been through" – and depending on the design, the detail and the story conveyed, the boots can take more than two hours to adorn, which is fine by Garlett who's painted his entire life.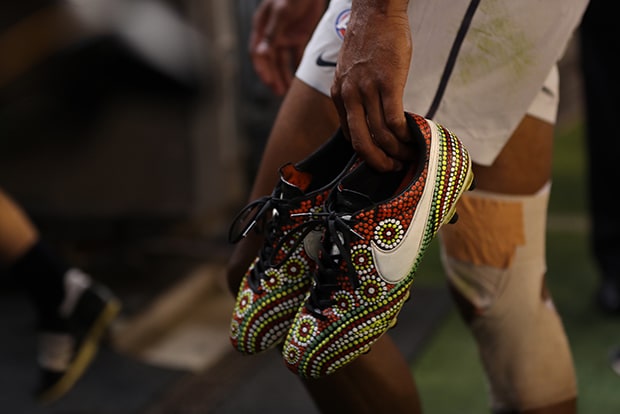 A close-up of Jarrod Garlett's painted boots worn in his Carlton debut. (Photo: Jonathan Di Maggio)
As he said of his craft: "It's been a hidden talent. I grew up painting and I ended up being good at it".
Garlett is a proud Yamaji (also spelled Yamatji) which means "man" or "human being". His people are the traditional owners of the land and coastal waters to the north of Western Australia.
"On my Dad's side the family is big and has a lot of connections right through there," said Garlett, "but in terms of the story behind the people, "I'm still learning that".
And with every dab of Garlett's stick, we too are learning more of the Yamaji.