MARK Stackpole is a lifelong Carlton supporter. As the great grandson of Bill McNamara, the 69-game player under Jack Worrall's watch, Mark's club connection is deeply personal.
Mark was but a boy of six when his great grandfather died, but old enough to carry a fleeting memory of the man - and so it was with unbridled enthusiasm that Mark, in the presence of his devoted mother Norah (nee McNamara) Stackpole, recently donned the famous dark navy guernsey.
The guernsey, signed by Marc Murphy and all the current players, carried the No.65 on the back in acknowledgment of Mark's 65th birthday last month.
A family member, Peter McNamara, saw fit to arrange for the surprise guernsey presentation for Mark, whom he said "has probably outlived life's expectation".
"For all of his adult life, Mark has worked and participated in sheltered workshops. He lives with his mother, herself now well into her 80s, in a retirement village in Reservoir."
It was at the retirement village, scene of Mark's 65th birthday, that the special presentation of the guernsey was made before all members of that tight-knit community. Peter takes up the story;
"It wouldn't have been more than a minute after the presentation that Mark appeared in the jumper. It stayed on the whole of the night and Mark may well have gone to bed in it. He paraded himself amongst the crowd and got some ribbing from attendees, but defended the banter and let them know he was a true Blue. Mark's birthday cake also carried the CFC emblem, which reinforced his own affinity to Carlton. You have never seen a more happy and excited recipient of a birthday present. The CFC jumper was the best thing that Mark could have received. It surpassed everything. The gifting by the Carlton Football Club was acknowledged in a speech of thanks to all present and, especially to Carlton."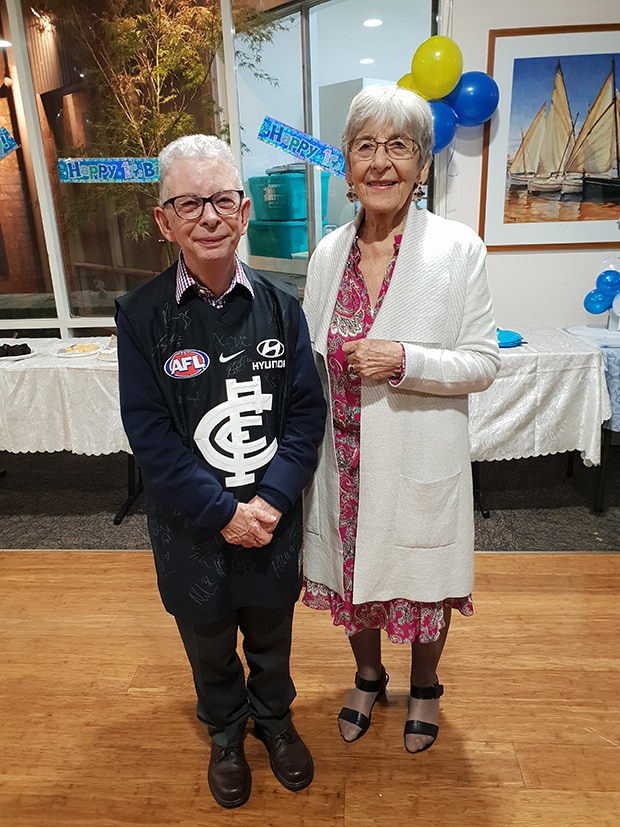 Mark Stackpole with his mother Norah at the recent presentation of his Carlton guernsey. (Photo: Supplied)
Peter also offered a little insight into Mark's life. Mark, he said, weighed in a just 1lb8oz at birth, but with the aid of medical staff somehow made it through.
"Mark has lived a good life over the 65 years despite his own disability, and has a mother who has spent all of her years looking after him and giving him opportunities that he could undertake and master," Peter said.
"His brother-in-law Phil Falcone looks after Mark most beautifully, with his wife Julie (Mark's sister) and other family members. It is quite demanding and full-on, especially for his mother who is there for his every need."
Mark is a much-loved figure at the Footscray Business Enterprise of Yooralla – an organisation which continues to provide essential services to children and adults with disabilities, their families and carers.
Yooralla is celebrating the 100th year of its existence, and Mark has been part of the fold for 50 of them. As he's thought to be the organisation's longest continuous serving person, Mark was not surprisingly called upon to participate in a video campaign promoting Yooralla's magnificent story.
"If you view the video you will hear Mark tell us he is not about to be retire . . . how many of us face up to 50 years with head down and a... up?," Peter said.
Click here to view Mark's video message for the Yooralla organisation.