THE CARLTON Football Club has today proudly unveiled its 2019 Indigenous guernsey to be worn next week during Sir Doug Nicholls Round against St Kilda.
The design entails the iconic Navy Blue with meaningful indigenous symbols which represents family, strength, protection and highlights the path each individual player has taken on their journey to Carlton.
Shelley Ware, a proud Yankunytjatjara and Wirangu woman from South Australia, was the creator of the guernsey.
Ware said she felt privileged to create the Blues' 2019 Indigenous guernsey.
"It's an honour to have my design chosen for the guernsey, and for the design I wanted to show what comes to my mind when I think of an Aboriginal and Torres Strait Islander man," Ware said.
"I picture a warrior standing strong and proud for his people, so I asked artist Michael Harding to draw the shield and spear of the warrior. To show the strength and grace of the warrior ready for battle," Ware said.
"The guernsey features the sun on the players left shoulder, the giver of life. I included my totem, the Wedge-tailed Eagle, to watch over and keep them safe. Across the back, you can see ancestors in the stars, showing those who led the way before them and now watch over and guide the players."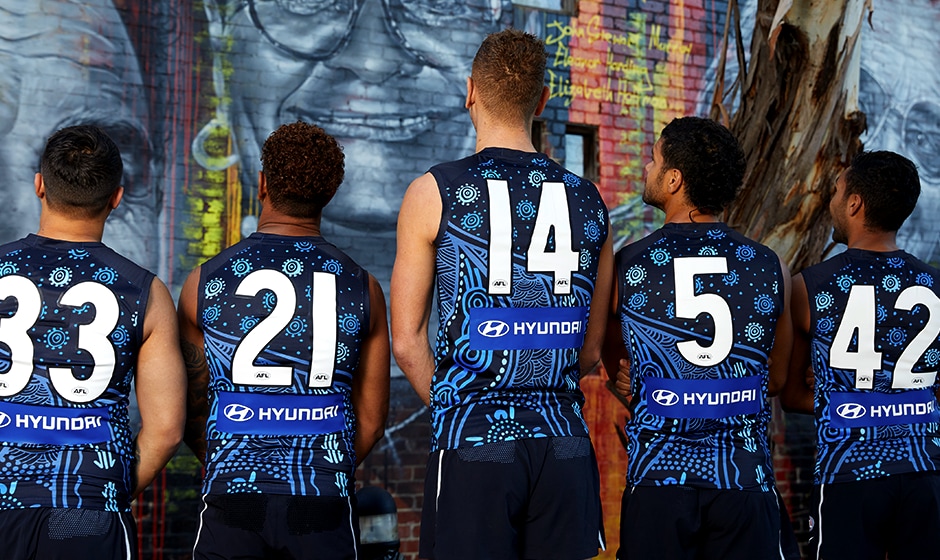 Carlton CEO Cain Liddle highlighted the importance of the Indigenous guernsey for the Club.
"Our Indigenous guernsey holds added significance given the Club launched its second Reconciliation Action Plan earlier this year," Liddle said.
"As a Club we are committed to reconciliation both internally and in the community. Our players will be proud to run out in a guernsey that holds such significance and truly tells a story.
"We thank Shelley for her efforts in designing such a fantastic guernsey and look forward to seeing it feature next Sunday against the Saints."
All 22 match worn guernsey's will be available for auction after the match on the official Carlton auction site.
The proceeds from the auction will benefit the Club's Next Generation Academy; a program that provides continual development of AFL pathways inclusive of Aboriginal and Torres Strait Islander youth within Carlton's Northern Academy Zone.