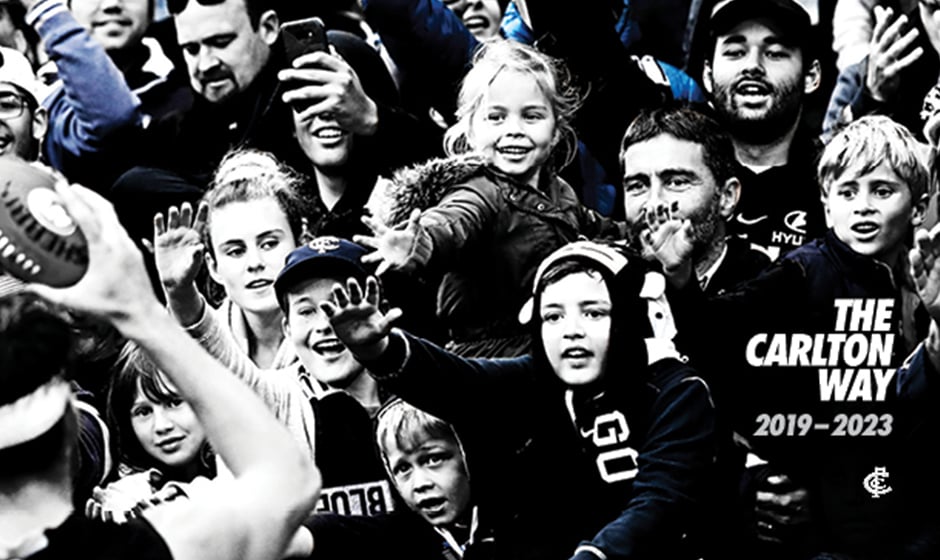 Firstly, I want to say congratulations and thank you to each and every one of our members. To have smashed our membership record before the AFL season has even commenced is an outstanding effort and something that our entire club is very proud of.
This confirms to us the belief that our supporters have in the direction we are heading, and it is important that as members you know how much you mean to us and we genuinely thank you for your commitment to the Club this year.
This wave of momentum that our members have created has given us the perfect platform to launch our strategic plan, so on behalf of the Board, management, staff, players and coaches, it gives us great pleasure to provide our members with The Carlton Way, our five-year strategic plan that highlights our Club's vision, values, strategic priorities and key targets for the period 2019 – 2023.
I would urge all members to take the time to look over our plan. The essence of the document can essentially be boiled down into a couple of sentences;
We believe that a united football club, relentless in the pursuit of excellence, who hold ourselves and each other accountable, can achieve anything. This is the Carlton way.
Click here to view The Carlton Way
There are plenty of other exciting initiatives also happening around the Club. On-field, our AFLW team is currently sitting atop the ladder in Conference B, and a win against the Bulldogs on Sunday in the annual Pride Game, will secure us a finals berth for the first time in AFLW history.
We are proud of the work being conducted by Senior Coach Daniel Harford and the entire coaching panel, playing group and all the staff in our AFLW program. With Rising Star nominations to Maddy Prespakis and Georgia Gee in recent weeks, I'm sure you will agree the future looks bright for our AFLW team.
For our men's team, solid JLT performances against Essendon and Collingwood ensure we are ready for an exciting Round 1 clash with Richmond at the 'G in the traditional season opener. Ticket sales are well up on projections and it now appears likely that we will see another crowd in excess of 85,000 people next Thursday night. I would urge all members and supporters to secure a reserved seat for this game, ensuring that you are there to see the 2019 season kick off. Click here to purchase tickets
We officially welcomed our first intake of Carlton College of Sport students in early March. In partnership with La Trobe University, students will undertake a Diploma of Sport Development and Coaching, a 12-month program located at Ikon Park. Along with our burgeoning Carlton IN Business program, the Carlton College of Sport rounds out what is an exciting suite of non-traditional revenue opportunities that will play a pivotal role in the achievement of our key targets over the next five years.
As you would be aware, earlier this year we were fortunate to secure $15 million of funding from the federal government, in addition to the $20 million committed by the state government to the redevelopment of Ikon Park, cementing the facility as Melbourne's home of AFLW.
We are now in planning for a major fundraising program that will see significant upgrades to our AFL facilities to complement the funding that has been made available to improve our AFLW facilities. Members will hear more about these plans later this year.
We recently launched the Club's Innovate Reconciliation Action Plan (RAP), which outlines our plans to promote reconciliation both internally and also across the communities that we operate within.
Last month we were also pleased to announce we have extended our proud partnership with IKON Services Australia for a further five years.
Since 2015, Ikon has been the naming rights partner of the spiritual home of the Blues and this commitment now extends our partnership to a total of 10 years. In addition to being the Club's official venue partner, Ikon is a proud AFLW foundation partner and Carlton IN Business member.
The extension of the Ikon Services partnership now sees all of the Club's major assets, with front and back of guernsey (Virgin Australia and Hyundai), shorts (La Trobe University) and venue naming rights partner (Ikon), all secured on five-year deals.

In closing, I wanted to remind all of our members of the activities that we will be hosting at Ikon Park this Saturday morning. In a truly whole-of-club event, you will have the chance to meet Carlton's biggest names and watch both the AFL and AFLW teams train.
Proudly presented by Hyundai, this free family-friendly event kicks off at 9am with plenty of activities for children, including face-painters, a magician and live interactive zones.
It would be great to see as many members as possible in attendance to wish both our AFL and AFLW teams the very best for their important upcoming games. Click here for more details.
Thank you again to all our members for your tremendous support, it is an exciting journey that our club is on and we look forward to sharing that journey with you.

Regards,
Cain Liddle
CEO