IF you're under any illusions as to how vociferously Brent Stanton's family supported Carlton, ponder the christian name they gave this football club's recently appointed development coach on the day of his birth on the first day of May back in 1986.
"I know I was named after Brent Crosswell. That's how far back the connection goes," Stanton said this week.
"I've never met Brent and I've only seen highlights of him, but gee he was an impressive player. Hopefully one day I get to meet him."
As Stanton's parents and his brother and sisters were all true Blue, there was never any doubt his childhood allegiances would be channelled towards the club for whom Crosswell so spectacularly turned out. As he said: "I was a Carlton supporter as a kid, and I suppose the rule in our household was that if you weren't a Carlton supporter you couldn't live at home".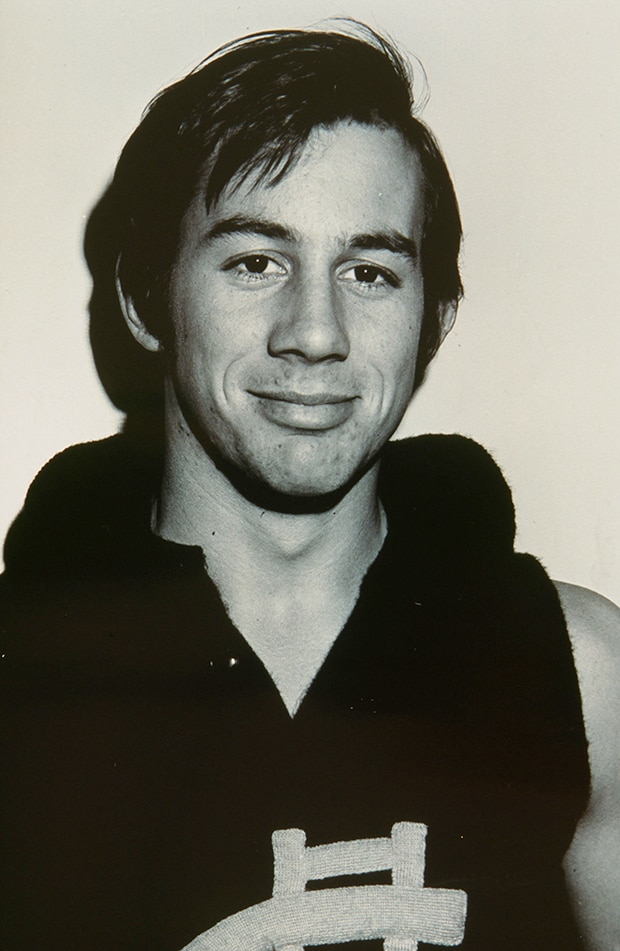 Former Carlton dual premiership player Brent Crosswell.
Of course, Stanton's allegiances to the old dark Navy Blues drastically altered with his drafting to Essendon back in 2003 - thereby setting in train a series of events ending with his 255th and final senior appearance in 13 seasons at Windy Hill and, more recently, Tullamarine.
Having long harboured an interest in coaching, Stanton channelled his energies towards the craft by embarking on a number of coaching courses through his final season as a player and basically putting his name out there through his manager. That led to a phone conversation with Carlton's Head of Football Andrew McKay, which in turn culminated in a meeting with both McKay and senior coach Brendon Bolton.
"I'd never met either of them before, but I was very impressed with the people that they were first and foremost, as well as their football talk when we talked," Stanton said.
In terms of what he believes he can bring to Carlton in his capacity as development coach, Stanton, who has learned much under the watch of Sheedy, Worsfold et al, was in no doubt.
"I think that I'm fresh out of football and still in the game a little bit, and up to date with the way the game is played," Stanton said.
"I think I can offer a great insight, having been involved with the young kids I've got to play alongside over the past 12 months and through my career. Being able to people manage, to build relationships is a massive part of coaching and teaching, and I've done a little bit of coaching locally with Ricky Dyson."
Stanton formally commences duties on Monday. His brief is to oversee the younger contingent of Carlton's midfielders and work in closely with the senior midfield coach, then following suit for the Northern Blues alongside the newly-appointed Jason Davenport, Shane Watson and Josh Fraser.
Carlton becomes his No.1 priority, but he'll be chasing the leather for Banyule when he can, for it was there that he completed his entire junior football career.
Having cast a discerning eye over the Carlton senior list, Stanton appreciates that he'll be working with a developing group - and according to him "that's the exciting part about being development coach, in that I can come in with an opportunity to help a lot of players in a lot of different areas".
"Recent results have shown that the competition's evened out, now more than ever, particularly when you look at the past two premiership teams and where they've come from," Stanton said.
"That's the exciting part about AFL at the moment, in that it's a very even, competitive league and if you can get things right and get a little bit of confidence in your playing group you can fast track that group."
The dark days of the supplements scandal that ripped Essendon asunder have served only to steel Stanton's resolve "and I spoke about that in the interview process".
"It wasn't the greatest time in my football career and life really, but I've certainly known how to deal with adversity and plenty of lows," Stanton said.
"If I can impart a little of that upon the younger players, and teach them how to deal with certain aspects so that they can get the best out of their football and a balance in their lives, then that will hopefully be a great thing I can do for them at the club."
Crosswell, the two-time premiership player through 98 games at Carlton, inherited the nickname 'Tiger' in his halcyon days at Princes Park – a reference to his propensity for using the word to greet fellow teammates whose names he could never recall.
Thesedays domiciled in Hobart, the flamboyant former keeper of the No.17 is coping as best as he can with the inner ear disorder known as Meniere's Disease.
But he can at least take a little comfort in the knowledge that at the place where he first ran out almost 50 years ago he's one Tasmanian tiger neither gone nor forgotten.