It happened at Olympic Park, on a Sunday in November 1964. Carlton's Gordon Collis had not long landed the Brownlow Medal and Ron Barassi was barely a month from committing to Collis' football club as captain-coach.
That afternoon, November 15, more than 25,000 people filed through the turnstiles to bear witness to a round-ball exhibition charity match over two 25-minute halves involving players of the long-gone Slavia Melbourne Soccer Club and the VFL All-Stars in which Collis and Barassi both featured.
This charming sporting story was not so long ago revived by Victoria University's College of the Arts Senior Lecturer in communications Ian Syson and The Age's Greg Baum.
Now, thanks to the family of Lygon Street hairdresser and Juventus secretary the late Ernie Angerame - lovingly remembered as "Barbiere Ufficiale del Carlton Football Club" – precious gameday images carrying the name of the resident photographer "Minari" have surfaced.
The first shows a resplendent Angerame, complete with cravat, posing with Collis in the rooms pre-match; the second features the two competing teams, referee and linesmen at attention pre-match; and the third is the formal VFL All-Star XI, as follows;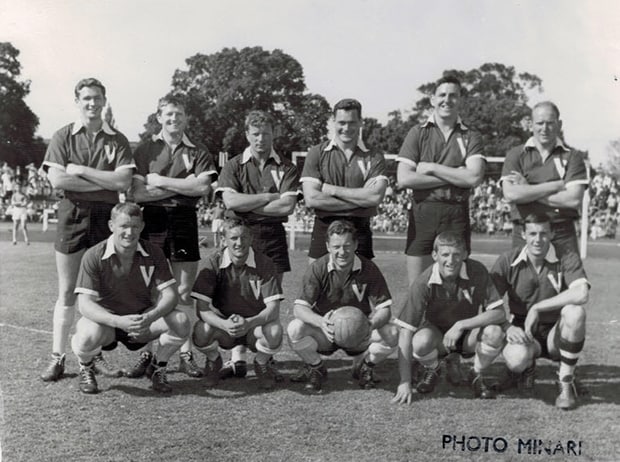 Back row, left to right: Gordon Collis, Kevin Murray, Stuart Magee, Ron Barassi, Paul Wadham and Darrel Baldock
Front row, left to right: Des Tuddenham, player unknown, Frank Adams, Bill Brown and Paul Vinar (Photo: Minari)
The contest, which generated the princely sum of £2600 for charity, came to be after the late Jack Dyer, in his memorably-titled "Dyer-'ere" column for Truth newspaper, trashtalked a Dockerty Cup final he witnessed as guest of the Victorian Soccer Federation. Wrote Dyer: "I went, I saw, and I was sickened. It really is a girls' game - but only for big girls''.
Hammy McMeechan, newly arrived from Scotland to play for Slavia, happened to read Dyer's column and was suitably incensed. "I had to," he was quoted saying. "When I first came out, I couldn't believe it; even the women talked football back home, the women didn't care about soccer. They went shopping. But if you want to talk to people here, you have to be interested in football."
On World of Sport, McMeecham's clubmate, Dave Meecham, subsequently issued a challenge. It was accepted. The Sporting Globe was ecstatic. "We've been waiting for years for this, and it's here at last," it said. "Soccer v footy. Captain Blood has already warned Slavia that it's going to be 'on', and this means one thing – it's going to be the roughest, toughest soccer match Victoria has ever seen."
Regrettably, the Big V went down to Slavia 8-0.
Collis recalled the All-Stars' contest with the club founded by Czech migrants as a rather spiteful affair, confessing to Baum "that we, with our technique [laughing], couldn't resist the opportunity of a hip and shoulder here and there".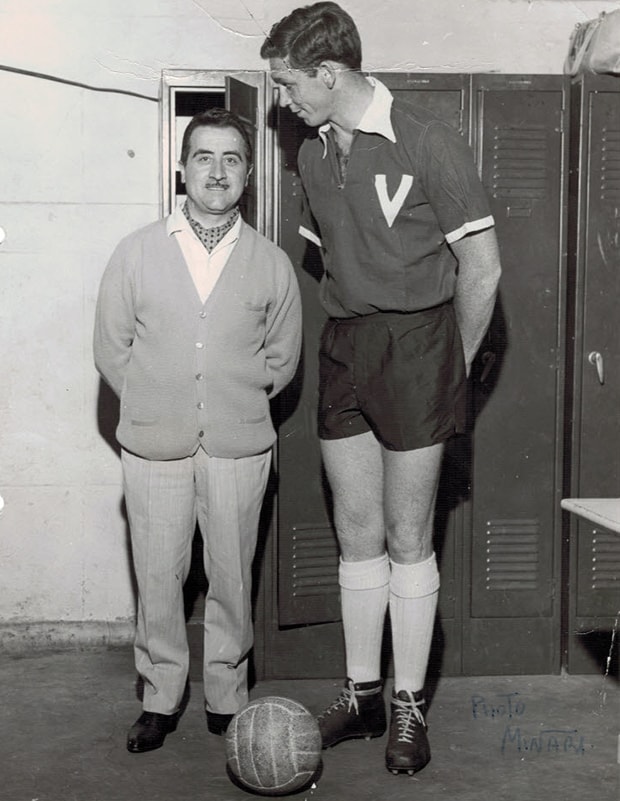 Carlton's 1964 Brownlow Medallist Gordon Collis with Carlton barber the late Ernie Angerame ahead of the VFL All-Stars v Slavia Melbourne Soccer Club game. (Photo: Minari)
''The other boys had tricks of their own," Collis told the reporter. "One of them was to put a foot over the ball as you were about to kick it, so your shins would make contact with the soles of their boots. That didn't improve relations. We didn't see it as very manly way of going about things. But it was effective. It was also effective in stirring us up!''
With tempers somewhat frayed, Barassi at some point launched at a Slavia player named John Auchie. "If you know soccer," said McMeechan, "if you go in and kick the ball and I put my foot behind it, it's like kicking a wall. That's all he did."
Barassi tripped, fell, and limped off. He was about to embark on his bombshell transfer from Melbourne to Carlton, but did not again touch the heights as a player. As Baum wrote, years later, when they crossed paths again in a King Street newsagency, Barassi told McMeechan that the injury he sustained that day eventually forced him to give football away.
Collis has the team photograph in his keep, but had not before seen the image with Ernie, whom he remembered always as a snappy dresser.
As for the unidentified player to 'Tuddy''s left, Collis conceded: "He's a mystery man - I've been racking my brain on that one, but I'll get back to you".
And of the contest itself, Collis is in no doubt. "The match captured a lot of interest then and it would have an even greater appeal today, "particularly with the improved profile soccer now has".