BRODIE Kemp's drafting to Carlton broadens the Blues' historic ties to Echuca – most recently through Andrew Walker and as far back as Bert Cowley more than a century ago.
When Kemp's name was called with Carlton's overall selection No.17 at Marvel Stadium on Wednesday night, Walker - the club's 202-game player and thesedays Echuca captain-coach - couldn't contain his enthusiasm:
"I could not love this any more Brodie Kemp. Another Echuca boy at the club I love!! Fantastic! Ripper kid, ripper family, even better footballer. Go Blues!" Walker commented on Facebook.
View this post on Instagram
Brodie Kemp during his time playing with Echuca Football CLub.
Today Walker talked of his links with Brodie and the Kemp clan.
"I've had a little bit to do with the family, so I'll go back a few years. Brodie's dad Grant was my Physical Education teacher at St Joseph's College in Echuca. I always had a great relationship with Mr Kemp and he was one of the early influences," Walker said.
"Back in 2003, when word was going around that I was going to be drafted, he protected me . . . but he also kept me honest."
Furthering the family connection, Walker has also mentored Brodie's older brother Mitchell - "a talented player who runs around with the Northern Blues" – which is why he's so genuinely excited for Brodie.
"Brodie was a bit different having been off at boarding school and playing for the Bendigo Pioneers, but I watched his progression at Bendigo really closely," Walker said.
"I was gutted for him when he did his ACL because he could have been in the top three. I remember he came up to watch an Echuca game and I had a brief chat to him about how disappointed I was for him. But I never thought it would impact on his draft hopes because 18 year-old bodies are a little more forgiving and it worked out as a blessing because he's ended up at my old club and he's in great hands with the best facilities and medical staff.
Despite having just turned 18 years of age, Walker remembered how incredibly well he trained.
"He's got such a penetrating kick and he has such a great presence," Walker said. "You look at a lot of his clips and you see how well he reads the play. He's got a big body and can go on-ball. He can also play that sweeping half-back role and can play one on one.
" He's going to be able to do some midfield work with 'Crippa' (Patrick Cripps) and add another string to his bow. He's got class, he has a turn of speed, he's tall and I'd love to see him playing off half back and be put through the midfield with 'Crippa', 'Murph' (Marc Murphy), Sam Walsh and 'Samo' Petrevski-Seton."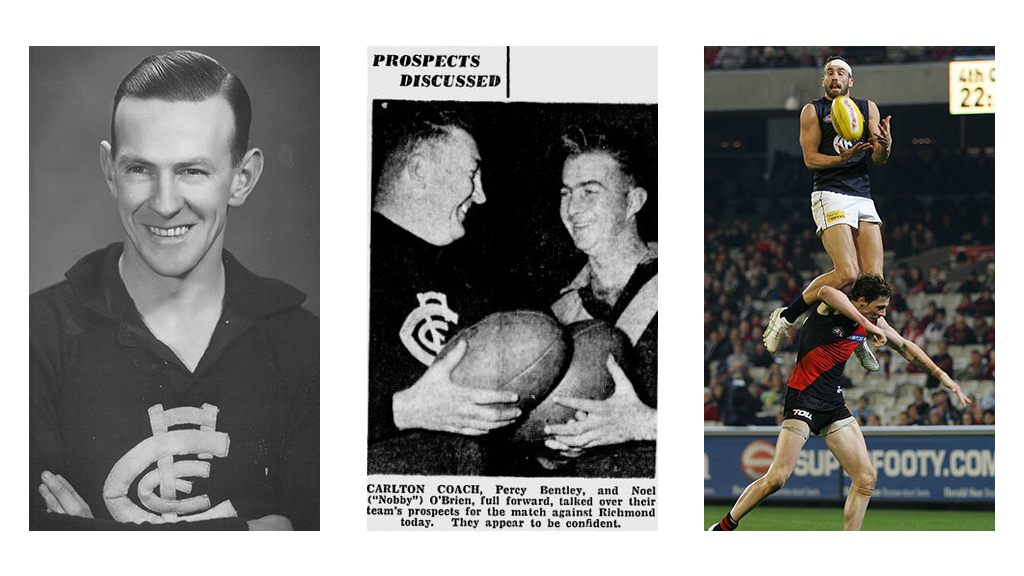 Carlton's Echuca brigade: Jim Clark (1951), Noel 'Nobby' O'Brien (1954) and Andrew Walker (2011).
Carlton's historic Echuca connection can of course be sourced to way before Walker's time, to the days of Bert Cowley, who was born in the town on the banks of the Murray in 1886 and served as Echuca captain before his recruitment to Carlton on the eve of the 1911 season.
Cowley completed his senior debut for the old dark Navy Blues in the 9th Round of the '11 season, when he was named on a half-back flank alongside acting captain Billy Payne for the match with Melbourne.
Sadly, this would be the first of just two senior Carlton appearances for Cowley, his last against Essendon the following Saturday – and 60 years later Echuca's Paul O'Brien would follow suit, with two senior appearances in dark Navy through 1971 and '72.
A year later, on the cusp of the 1912 finals series, Arthur Charles 'Shooter' Ford, then captain-coach of Echuca in the Murray Valley League, accepted an invitation from Carlton coach Norman 'Hackenschmidt' Clark to resume his on-field career with the club. Originally from Essendon Town and headhunted by Carlton Secretary Jack Worrall back in 1903, Ford had already featured in the 1908 Grand Final victory over Essendon to round out the old dark Navy Blues' '06, '07 and '08 Premiership hat-trick.
But Ford's time at Princes Park was not without controversy. On April 1, 1910, when Worrall's tempestuous association with Carlton ended with his formal resignation as secretary, Ford assumed secretarial duties whilst he continued to chase the leather. By then, Ford was amongst the biggest names in the game – until the 14th round of the 1910 season when, in a torrid contest with Fitzroy at Princes Park, he was heard to abuse and physically threaten a field umpire.
Subsequently reported, Ford was hit with a 12-month suspension and also ruled ineligible to continue as secretary.
Echuca's standing in the football world was never more pronounced than in 1952, when the Club managed to sign Jim Clark as Captain-Coach. A member of Carlton's 1945 'Bloodbath' and '47 Premiership teams, and the '51 Club Champion, Clark was some months shy of his 27th birthday when Echuca made what was, to quote Don Corleone, an offer he couldn't refuse. So it was almost 50 years later when Carlton's three-time Premiership player Ken Sheldon accepted a coaching role in Echuca, and took the Echuca Bombers to the 2001 Goulburn Valley Football League flag.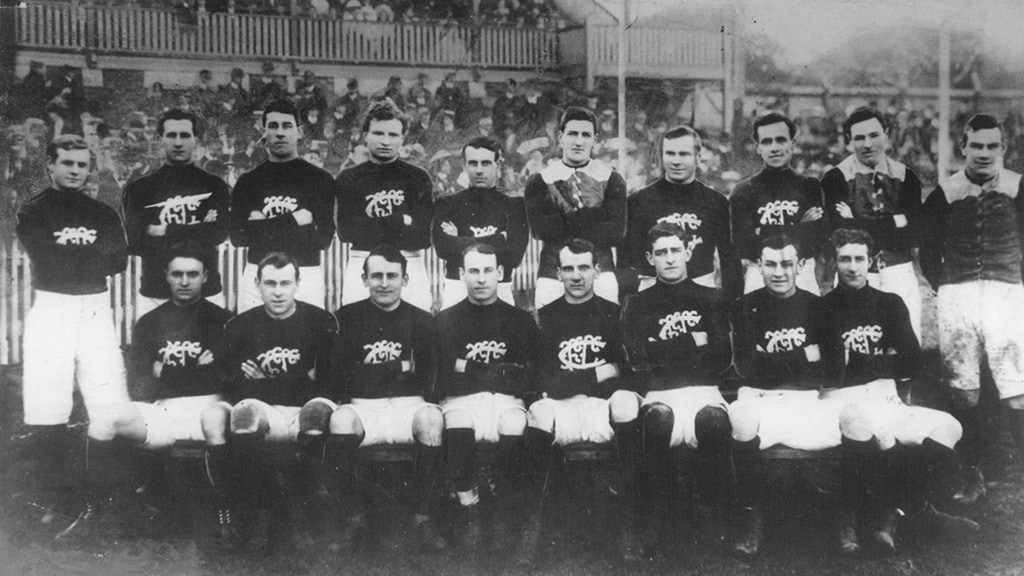 The Carlton team, 1909 – Arthur 'Shooter' Ford, later Echuca's captain-coach, is seated second from the left.
Fast forward to 1954, and Echuca was on the receiving end when Carlton landed its prized full-forward Noel 'Nobby' O'Brien, whose first two seasons at Princes Park saw him quite literally impact on the scoreboard.
Echuca had played hardball with the Blues, which had lobbied hard for Nobby the previous season. The Argus of April 24, 1953, reported that Echuca refused to grant a clearance to O'Brien, who has been sought by Carlton as a full forward.
"Messrs. Ken Luke (Carlton President) and Newton Chandler (Treasurer) pressed the case for Carlton, but the committee was adamant," the unnamed correspondent reported. "O'Brien was told that if he played with Echuca this season a clearance would be guaranteed to him for 1954."
Clearly the Echuca committeemen understood O'Brien's worth, for 10 days later The Argus journalist again reported: "Echuca full forward Noel O'Brien whose transfer to Carlton was refused last week, kicked 13 goals in the match against Kyneton last Saturday. This equals the Echuca club's record for the most goals kicked by one player in a match".
"There is no chance of Carlton getting this outstanding player," the reporter noted. "Despite the controversy, Echuca still refuses to consider a clearance."
When Messrs Luke and Chandler finally obtained O'Brien's prized signature, Nobby didn't let them down – booting 45 goals for the Blues in season 1954 and backing it up with 73 in '55. It is a matter of record that O'Brien's 73-goal haul comprised 37 per cent of his team's goals for the season – to this day the all-time highest percentage for any Blue.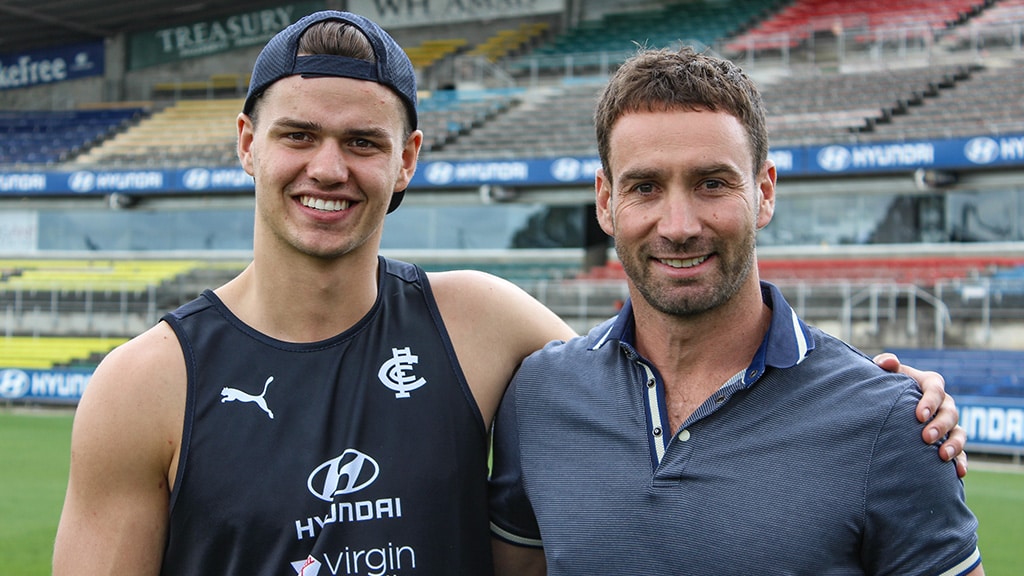 Brodie Kemp and Andrew Walker reunited at the Carlton Football Club (Photo: Carlton Media).
By 1956, inevitable comparisons between O'Brien and John Coleman were being drawn – until Dame Fortune cruelly intervened.
In a pre-season practice match early in '56, O'Brien, then 23, landed awkwardly in a marking contest, damaging his ankle so badly that he never played again. That incident robbed Carlton, and the game as a whole, of a special talent – and more than sixty years after his last game, Nobby's average of 3.69 goals per game remains the greatest in this club's history.
Clearly, Carlton's football fortunes have truly prospered for Echuca's on-field contributions, but how so?
Walker has his theories.
"There's a fair bit of resilience amongst the people out of this town – people from farming backgrounds who have had to deal with the hot weather and the conditions," Walker said.
"I know I always saw the hot weather as an advantage to me in the pre-season, because I was already used to the heat and I found it a great way to get an advantage on teammates.
"I know we're not talking Carlton here, but you look at the likes of Ollie Wines, Clayton Oliver and Jack Viney, who spent a lot of time in Echuca . . . and Brodie will only add to that list.
"Echuca's been a great breeding ground for players and there's some pretty good stocks. We've got a couple of 15 or 16 year-olds up here now who I reckon will go top 10."