Carlton's No.1 draftee Patrick Cripps has been handed the No.16 worn by the Blues' only five-time Premiership player Charlie Hammond.
Hammond ruled as ruckman through what was arguably Carlton's greatest era, which included the Premiership hat-trick seasons of 1906, '07 and '08 under coach Jack Worrall and the 1914-15 back-to-back Premierships under the watch of coach Norman "Hackenschmidt" Clark. 
Hammond's Grand Final record is imposing, but Cripps, as a bona fide in-and-under midfielder, already has "Champagne Charlie" covered in the height and weight stakes. While the former stood at 178cms and 86kgs, the 18 year-old boy from Northampton already measures in at around 193cms and tips the scales at 91kgs. 
First to admit that he wasn't aware of Hammond or any of the guernsey's previous wearers, Cripps truly appreciated the honour which had just been bestowed upon him. 
"To be drafted to the club is a privilege, and while I don't know much about the history of the jumper I consider any number a privilege," Cripps said. 
"A lot of great players have worn the guernsey and it's an honour for me to be given it." 
Carlton's second and third-round draftees Cameron Giles and Nick Holman have also been given their dark Navy Blue guernsey numbers for 2014 and beyond. 
Giles earns the No.19 worn for a club record 184 matches over nine seasons by Eddie Betts. The number previously graced the backs of Carlton Premiership players Rod "Wee" McGregor, Ian Collins, John O'Connell, Michael Young and Brad Pearce. 
Guernsey No.20 – most recently worn by Rhys O'Keeffe and previously by Premiership players Wes Lofts, Geoff Southby and Fraser Brown – goes to Holman.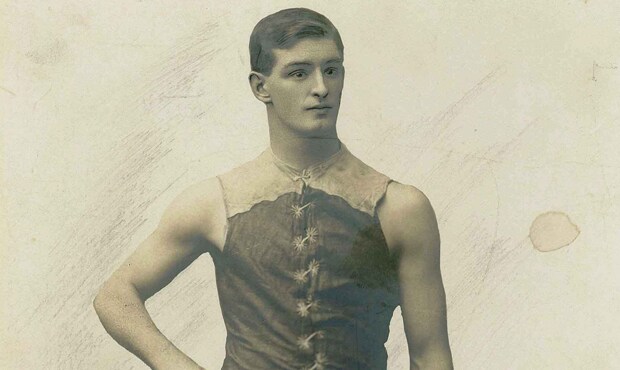 Five-time Premiership player Charlie Hammond. (Photo: Carlton Football Club)


Giles and Holman - taken by the Blues with their first, second and third round selections respectively – were advised of their numbers prior to participating in their maiden training session at Visy Park. 
Cripps' No.16 has also been worn with distinction by Carlton Premiership players Jim Mooring, Brian Kekovich, Jim Buckley and Scott Camporeale – not to mention old "Champagne Charlie" 
And would Cripps, with his superior height and weight, fancy his chances at the hit-outs if Hammond was still around and in his prime? 
"Maybe Charlie would still have me covered with his leap," came the modest reply.